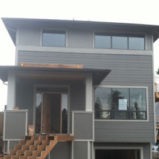 Renaissance Homes | Ultimate Open House Idea Home
Posted by Christine Church on Apr 10, 2013
The Ultimate Open House is coming! Every year the Homebuilder's Association hosts the best of home building trends, ideas and design in their spring Ultimate Open House show. The free two weekend event features builders showcasing homes throughout the metropolitan area. Show dates are April 27 –28 and May 4–5. This year Renaissance Homes entered our home as an "idea home" – a home with a unique story to tell.
This year Renaissance Homes decided to unveil something very special. Our innovative team came across an overlooked piece of property perched in the hills of John's Landing. Faced with houses above and below and with a slope on the side: the property was a challenge, but the Renaissance Homes custom team saw potential. The design team jumped in and started to conceptualize a home that worked with the natural terrain, fit in with the surroundings and took full advantage of the lots views.
The design team walked the property and discussed its potential. "We knew we wanted the house to take advantage of the territorial views," said Randy Sebastian. "We wanted the house to orient to the East and we wanted to maximize views from every room if we could." The property has views of Mt Hood, the Willamette and downtown. It's a breathtaking view of our beautiful city.
The home was designed with three levels, all main rooms orient east with walls of glass to maximize views. Two levels of decks were added to bring the outside in and provide outdoor entertaining spaces, outdoor heaters were added for three season usage. The top deck is accessible from the master bedroom, creating a private space for the homeowner. Click here for details on the floorplan.
Sandie Hume brought a contemporary Northwest feel into the space through color, materials and design. Through a mix of stone, tile and hardwoods, the rooms intertwine and the space feels harmonious with the nature, views and trees surrounding the property. The colors reflect Earth tones and the natural Northwest palette. The kitchen is a gourmet delight with a full suite of Viking Appliances, custom cabinetry and exquisite details.
Bella Casa will be furnishing the main floor spaces for the show with their exquisite selection of top quality accent pieces and furniture.
The home stays true to Renaissance's green values by being LEED certified and using Rainscreen siding, Polar Blanket Insulation and open web floor trusses throughout. The home will also receive an Energy Performance Score, EPS,  from the Energy Trust of Oregon, as all Renaissance Homes do. Stay tuned to the blog for more updates as the home finishes construction and we open for the Ultimate Open House!
Amanda Andruss | AAndruss@Renaissance-Homes.com | 503.969.4939

Lee Wells | LWells@Renaissance-Homes.com | 503.899.7754
Renaissance Homes is an award winning Street of Dreams custom home builder specializing in green building, remodeling and renovations for the Portland market. Visit our Design Studio to personalize your next home.