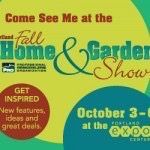 Renaissance at the Home & Garden Show!
Posted by Christine Church on Oct 1, 2013
It's the premier Home & Garden Show of the year at the Portland Expo Center! Stop by and visit the Renaissance Homes booth, 712! We'll be at the show talking about the Renaissance Homes custom home division. From building on your lot, to helping you find a lot, we can make your custom home dreams come true! Renaissance Homes is one stop shopping for a custom home. We design the plan in house, and our private design studio makes personalizing your home easy – all in one place. Stop by and let's chat about how easy the process is. We'll also be handing out Renaissance Homes 25′ tape measures and you can enter to win one of 12 deluxe tool kits. Stop by and say hi! We'd love to see you and talk about your next custom home.
Click here to download a $2 off coupon! The show runs Thursday through Sunday, October 3-6th.
Show Hours:
Thursday: 11am – 8pm
Friday: 11am – 8pm
Saturday: 10am – 8pm
Sunday: 10am – 6pm
There's lot to do at this year's show.
This year Home & Garden show visitors can check out the "Serving Up Style" event. 24 design teams from the Portland Metropolitan Area and Southwest Washington were chosen to display their creative talents.  Teams of interior design firms, architecture firms, retailers or even design students create fantastic, whimsical, and stunning dining environments.
Team's partner with contractors, painters, flooring installers, wall decorators, local retail outlets, artisans, artists, and others to display a showcase of their talents in a 12' x 16' dining room.  Ranging from a roof top dining environment to breakfast in bed, to dining in an elegant, fanciful dream room- these designers will knock your socks off!  You can watch the rooms take shape at the Portland Home & Garden Show Facebook page. While you are there, enter to win a $6000 Hot Tub. Wow!
When you are at the show visit the Home Depot DIY stage.
The experts at Home Depot are back!  They are creating a great workshop and information area catering to the needs of do-it-yourselfers, home owners and those needing a professional's touch.  The Free Workshops are on-going and perfect for those interested in yard maintenance, home painting, flooring, and storage options.  The huge workshop area will also feature a complete At Home Services Department, with the ability to go over siding, decking, roofing, gardening, plant material, power garden tools, installations, and energy saving appliances and other needs.
DIY SCHEDULE 
Noon  | Daily |  Tiling – Tools, Tips & Tricks
2:00 PM  | Daily |  Painting for Everyone & Every Room
4:00 PM | Daily |  Finishing the Rooms of Your House
6:00 PM | Daily (except Sunday) |  Selecting the Right Carpet for your House
The Portland Expo Center is located at 2060 North Marine Drive, Portland.
Renaissance Homes is an award winning Street of Dreams custom home builder specializing in green building, remodeling and renovations for the Portland market. Visit our Design Studio to personalize your next home.