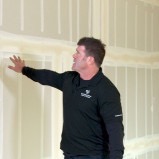 Drywall
Posted by Christine Church on Apr 9, 2013
Video #11 in our ongoing series of Renaissance Homes quality construction. President Randy Sebastian talks about our new home drywall. Randy discusses the Rigid back drywall and how that reduces bowing. In addition, Randy discusses the techniques and products Renaissance Homes uses for drywall to reduce cracks and pops. Also explained is the kind of drywall that is used for the garage.
View Transcript
Intro
Hi, I'm Randy Sebastian, President of Renaissance Homes. We're doing a video series to explain to you guys exactly why Renaissance Homes are built better than any other builders and then detail the construction process of what we do to build you the most energy efficient, best built home in Portland. We're in fact the number one LEED builder in the state, no other builder builds as many LEED certified homes as we do and there's a reason for that: Renaissance Homes are just built better. So I want to show you guys exactly what we do.
Drywall
Here we are at the drywall stage of the home. We use rigid back ceiling drywall so you don't see the bows in the ceiling over the years. So it's all rigid back, it's all screwed in – all of our drywall is screwed, and with the screws you don't have the nail pops coming out, not only that I dunno if you guys remember I talked about using all kiln dried lumber that also stops the nail pops or the screw pops too. It's all fire taped.
Also what we do, a lot of people wonder how we get our arches just right, we use all round drywall bullnose and that really gives us kind of a period look on all of our arches and looks really nice. Again our drywall company's been with us for years and years they do great job and great service and we really have very little issues with our drywall because of the screwing that's done and then also the rigid ceilings.
In the garage – we won't go in there – but in the garage it's all 5/8s fire rated gypsum board which is code but that's something important to point out. Ok, great, that's drywall.
Outro
Thank you for joining us today. You can go to our website Renaissance-Homes.com for more information.

Renaissance Homes
 is an award winning Street of Dreams custom home builder specializing in 
green building
, 
remodeling
 and renovations for the Portland market. Visit our 
Design Studio 
to personalize your next home.