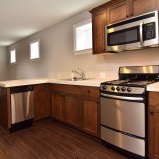 Attend Portland's Accessory Dwelling Unit Tour June 1
Posted by Nicole DeCosta on May 7, 2014
Build small, live large – that's the motto for the upcoming Portland's Accessory Dwelling Unit Tour.
Taking place Sunday June 1 from 10 a.m. to 6 p.m., the self-guided ADU tour is for those interested in learning more about these boutique living spaces and meeting homeowners who live in them and the builders and designers that bring them to life.
Check out 12 ADUs in Portland and enjoy hourly ADU-focused presentations from industry professionals at Living Room Realty on Alberta Street. Plus, be sure to stop by the networking event from 4 to 6 p.m. at Caravan: The Tiny House Hotel at 5009 NE 11th Ave. for additional learning opportunities.
What is an Accessory Dwelling Unit?
Not familiar with ADUs? Accessory Dwelling Units (ADUs) are self-contained, compact homes built on the same lot as a single-family home.
ADUs can be garage conversions, basement living spaces or new, detached units. Sometimes referred to as "in-law apartments," "granny flats" or "backyard cottages," these small-footprint infill projects support sustainable, walkable, accessible neighborhoods.
ADUs include a separate kitchen, sleeping area, closets, mailbox and bathroom facilities. The spaces offer many benefits to the homeowners such as producing extra, supplemental income, allowing for multi-generational living, creating less of an impact on the plant due to their smaller footprints, increasing property values and providing companionship and security.
Renaissance Homes builds ADUs
Throughout the past several years, Renaissance Homes has built many ADUs throughout the metro area in both our vintage and signature suburban collections. We were invited to be a part of the Build Small, Live Large tour, but we didn't have an ADU in the North Portland vicinity. Check our website for information on ADUs or contact a member of our sales team for details on floorplans with ADUs.
More information
For more information and to view the detailed class schedule, visit AccessoryDwellings.org. To register, visit ADUTour.EventBrite.com. Ticket prices are between $20 and $30.
The event is brought to you by Caravan: The Tiny House Hotel in partnership with the City of Portland, Metro and the Oregon Department of Environmental Quality.
Renaissance Homes is an award winning Street of Dreams custom home builder specializing in green building for the Portland market. Visit our Design Studio to personalize your next home.